Attitude matters
It is vital to begin with acceptance of your current state while you plan and implement changes. It may be necessary to hold two seemingly contradictory truths at once – a core tenet of dialectical behavioral therapy, or DBT. A classic example of DBT is when a therapist tells a client, "I love you exactly the way you are, and I'm here to help you change." The statements are simultaneously in opposition to each other and true.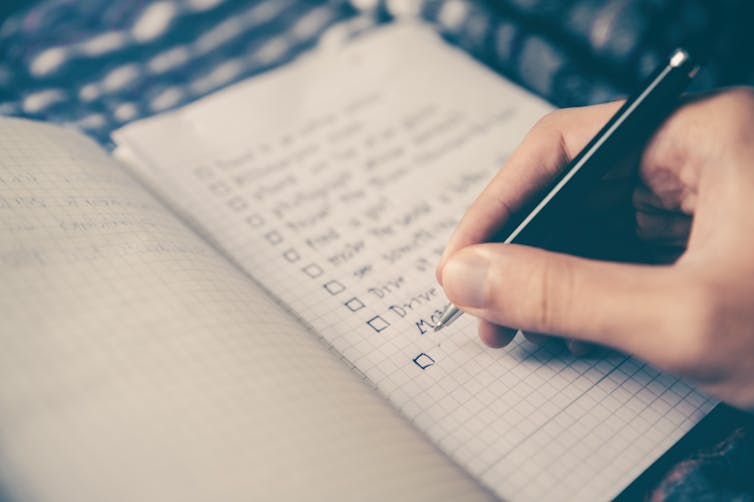 Setting concrete, actionable goals can help make them feel more achievable. Glenn Carstens-Peters/Unsplash, CC BY
Doing this in terms of pandemic-driven changes involves three steps:
Take note of the current reality, such as, "I am up 10 pounds," "I am drinking more than before the pandemic," or "I'm not getting enough exercise anymore," but without negative self-judgment.

Make realistic, measurable goals for change: "I want to lose a pound in four weeks," "I want to climb a flight of stairs without becoming breathless," or "I will drink alcohol only when out with friends."

Create a plan to achieve these goals.
Also, wanting to take good care of oneself, rather than wanting to look or be a certain way, is an important focus. A little self-knowledge goes a long way here. People who tend to go "all in," rather than doing things gradually, need to be sure their plans are safe by seeking professional guidance from a reliable source, such as getting weight loss advice from a family doctor rather than from people or companies that a New York Times opinion writer recently described as "weight-loss profiteers."
How can this process be applied to some common pandemic-driven health problems? Here are some suggestions.