Forewarned is forearmed
Think about all scientists have learned in the past century about how to prevent diseases based on understanding which microorganism is responsible, where it is in the environment and how it overcomes humans' natural defences.
Understanding what these organisms do, how they do it, and how they spread helps researchers develop measures to detect, mitigate and control their expansion. The goal is to be able to cure or prevent the disease they cause. The more dangerous the pathogen, the more urgently scientists need to understand it.
This is where lab research comes in.
Scientists have basic questions about how a pathogen conducts itself. What machinery does it use to enter a host cell and replicate? What genes does it activate, to make which proteins? This kind of information can be used to pinpoint strategies to eliminate the pathogen or lead to disease treatments or vaccines.
As the library of what is known about pathogens grows, there are more chance researchers can apply some of that knowledge when faced with an emerging pathogen.
People might encounter new pathogens as they move into different parts of the world, or alter ecosystems. Sometimes a pathogen adapts to a new vector – meaning it can be carried by a different organism – allowing it to spread into new areas and infect new populations. Roughly 70% of emerging infectious diseases around the world are transmitted from animals to people; these are called zoonotic diseases. It is critical to understand how these pathways work in order to have even a modest ability to predict what could happen.
While there are patterns in nature that can provide clues, the tremendous diversity of the microbial world and the rate at which these organisms evolve new strategies for their own defence and survival makes it imperative to study and understand each one as it's discovered.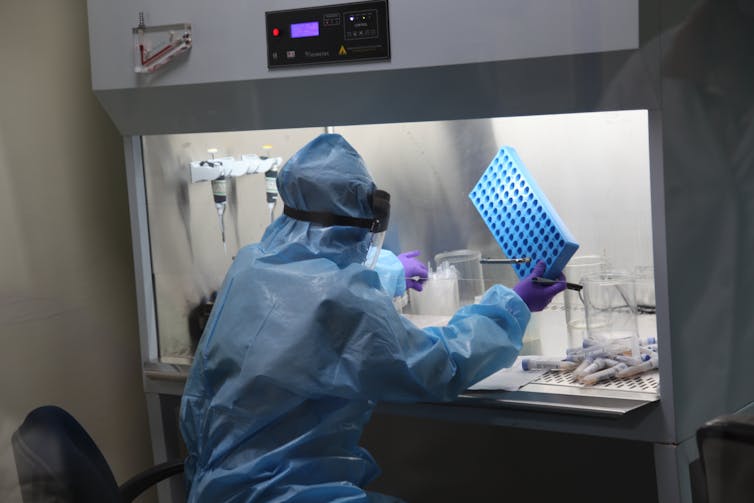 A scientist wearing personal protective gear works with coronavirus within a biosafety cabinet. Pallava Bagla/Corbis News via Getty Images