New and improved brain cells and connections
Until the 1960s, scientists believed that the number of neurons and synaptic connections in the human brain were finite and that, once damaged, these brain cells could not be replaced. But that idea was debunked as researchers began to see ample evidence for the birth of neurons, or neurogenesis, in adult brains of humans and other animals.
Now, there is clear evidence that aerobic exercise can contribute to neurogenesis and play a key role in helping to reverse or repair damage to neurons and their connections in both mammals and fish.
Research shows that one of the key ways these changes occur in response to exercise is through increased levels of a protein called brain-derived neurotrophic factor. The neural plasticity, or ability of the brain to change, that this protein stimulates has been shown to boost cognitive function, including learning and memory.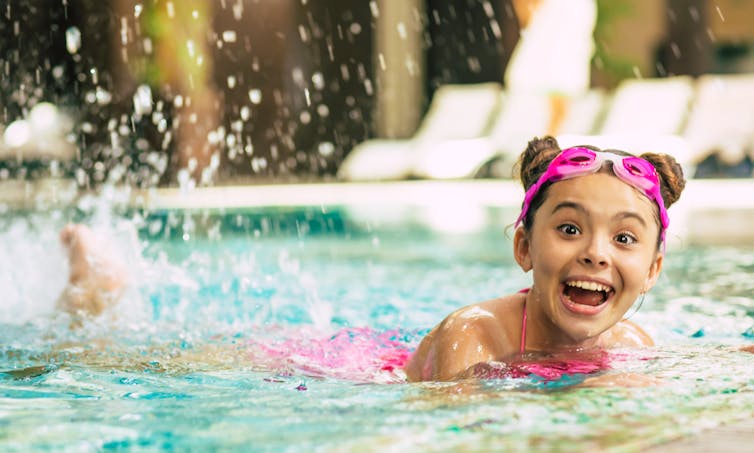 It's tempting for adults to watch kids splash from the poolside, but research shows it's worth jumping in alongside them. Povozniuk/iStock via Getty Images Plus
Studies in people have found a strong relationship between concentrations of brain-derived neurotrophic factor circulating in the brain and an increase in the size of the hippocampus, the brain region responsible for learning and memory. Increased levels of brain-derived neurotrophic factor have also been shown to sharpen cognitive performance and to help reduce anxiety and depression. In contrast, researchers have observed mood disorders in patients with lower concentrations of brain-derived neurotrophic factor.
Aerobic exercise also promotes the release of specific chemical messengers called neurotransmitters. One of these is serotonin, which – when present at increased levels – is known to reduce depression and anxiety and improve mood.
In studies in fish, scientists have observed changes in genes responsible for increasing brain-derived neurotrophic factor levels as well as enhanced development of the dendritic spines – protrusions on the dendrites, or elongated portions of nerve cells – after eight weeks of exercise compared with controls. This complements studies in mammals where brain-derived neurotrophic factor is known to increase neuronal spine density. These changes have been shown to contribute to improved memory, mood and enhanced cognition in mammals. The greater spine density helps neurons build new connections and send more signals to other nerve cells. With the repetition of signals, connections can become stronger.