The threat
A serious threat in online settings is that fake news spreads faster than verified and validated news from credible sources. Articles connecting vaccines and death have been among the content people engage with most.
Algorithms on social media platforms are primed for engagement. Recommendation engines in these platforms create a rabbit-hole effect by pushing users who click on anti-vaccine messages toward more anti-vaccine content. Individuals and groups that spread medical misinformation are well organized to exploit the weaknesses of the engagement-driven ecosystems on social media platforms.
Social media is being manipulated on an industrial scale, including a Russian campaign pushing disinformation about COVID-19 vaccines. Researchers have found that people who rely on Facebook as their primary source of news about the coronavirus are less likely to be vaccinated than people who get their coronavirus news from any other source.
While social media companies have actively tagged and removed misinformation about COVID-19 generally, stories about vaccine side effects are more insidious because conspiracy theorists may not be trafficking in false information as much as engaging in selectively distorting risks from vaccination. These efforts are part of a well-developed disinformation ecosystem on social media platforms that extends to offline anti-vaccine activism.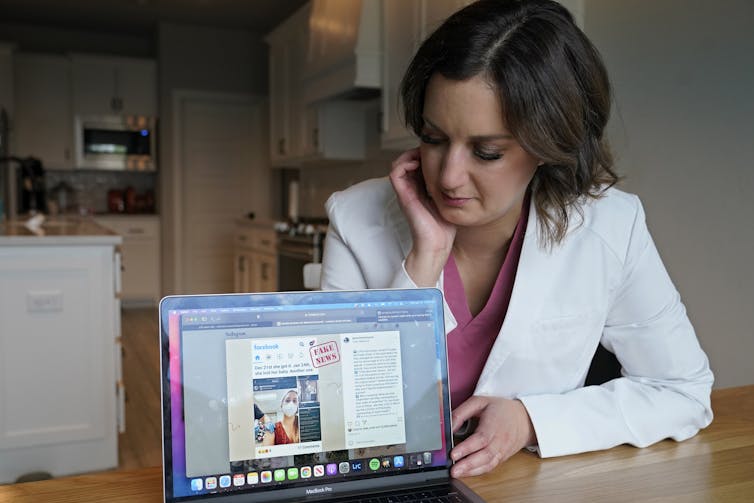 Anti-vaccine activists use sophisticated misinformation techniques, including hijacking social media accounts of health care workers like this physician and presenting misinformation via the stolen identities. AP Photo/Sue Ogrocki
Misinformation on social media may also fuel vaccine inequities. There are significant racial disparities among COVID-19 vaccine recipients so far. For example, though vaccine-related misinformation is not the only source of these differences, health-related misinformation is rife on Spanish-language Facebook.
Here are two key steps social media companies can take to reduce vaccine-related misinformation.