Thinking on the go
While a squirrel's life may look simple to human observers – climb, eat, sleep, repeat – it involves finely tuned cognitive skills. Squirrels are specialized seed dispersers: They harvest their winter's supply of nuts and acorns during a six- to eight-week span in the fall, bury each nut separately and rely on spatial memory to retrieve them, sometimes months later.
We know that squirrels organize their caches hierarchically. When provided with five nut species in a random order, Berkeley fox squirrels buried nuts in clusters according to species. Because larger nuts contain more calories, squirrels invest more heavily in them, carrying them to safer locations and spacing their hiding places farther apart.
We also discovered that a squirrel assesses the value of a nut by flicking its head with the nut in its mouth, just as a human might bob a pencil in her hand to assess its weight. And we know that they create their cache maps based on factors that include the scarcity of food in that season, the quantity of nuts already cached and the risk of being observed caching by other squirrels.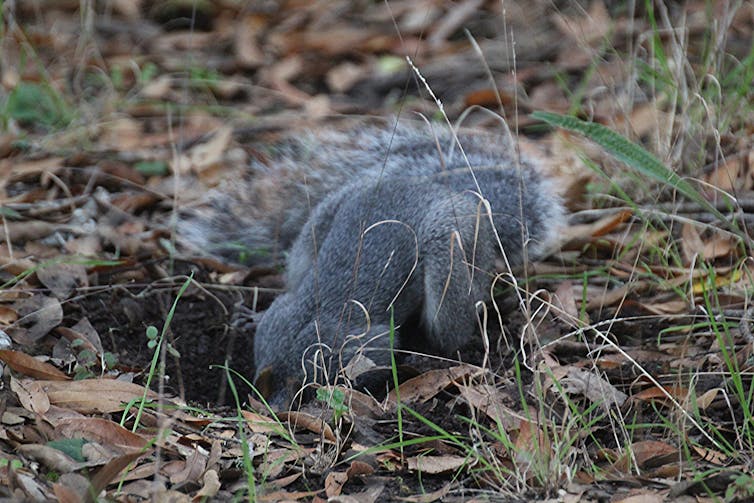 Gray squirrel rummaging through its nut cache in late fall. Mark Gunn/Flickr, CC BY
Along with observational studies, we have also assessed how squirrels perform abstract spatial tasks. For example, we have measured how well they are able to inhibit a lunge toward a remembered food location – part of an international study on the evolution of self control. In another experiment, we put squirrels through a vertical maze that mimicked the branching decisions they face when navigating in trees to see how they return to locations that they remember.
We also have found that while squirrels were solving a tabletop memory puzzle, their cognitive flexibility peaked during the intense period of storing their winter food supply. This explains why Berkeley squirrels are able to switch more easily between types of landmarks during the caching season.