What explains the rapid spike and then sharp decline of cases of the April-to-June wave?
India emerged in June and July of 2021 from a particularly savage second wave of COVID-19, with total confirmed cases at about 32 million and more than 400,000 deaths. But this could be a dramatic under-counting. Alternative estimates have put excess deaths in the range of 3.4 million to 4.9 million.
This wave was driven by multiple coronavirus variants, including alpha, which was first detected in the U.K., and delta, first identified in India and now the main source of infections in many countries. Because the emerging threat was not recognized early enough, health care services were overwhelmed starting in early April, with the lack of reliable oxygen supply becoming a major problem.
Both the alpha and delta variants are highly contagious, with delta being nearly twice as transmissible as the original strain of SARS-CoV-2. The rapid rise in cases in India is attributed to the high viral load – the amount of virus infecting a person – of delta, which is about 1,000 times higher than other strains. This resulted in widespread infections among household members with rates as as high as 80% to 100%.
The decline of cases in India has been surprisingly rapid given that there were daily new cases in the range of 400,000 in the first week of May and the test positivity rate in some districts was as high as 20%. Similar sharp declines were observed more recently in the U.K., Netherlands and Israel – perhaps a result of a combination of high vaccination rates and high infection levels. Daily cases in India are now between 30,000 and 40,000 per day.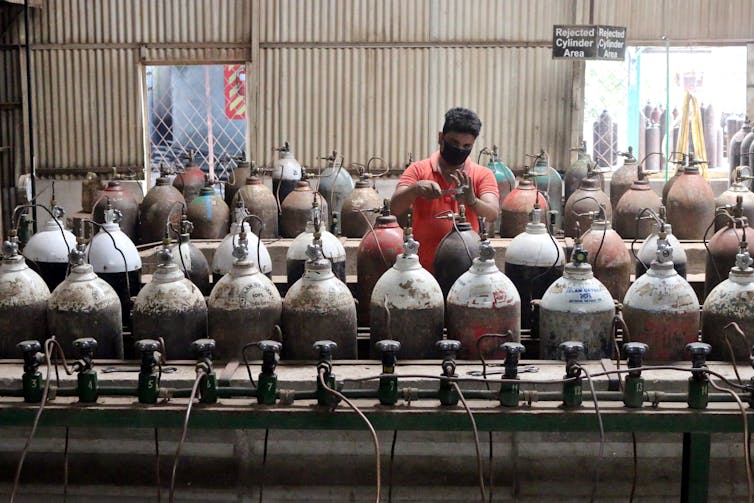 India stopped exporting oxygen to other countries after a severe shortage occurred during the first wave of COVID-19 cases fueled by the delta variant, which first appeared in India. Habibur Rahman/Eyepix Group/Barcroft Media via Getty Images